I'm gearing up for the Shakespeare Globe to Globe festival at the end of next month, so have finally started working through the logistics of it all. Most importantly, of course, is the weekend of the 25th-27th May!!!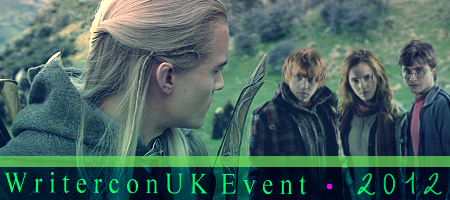 Banner by the dazzling

ningloreth, who I think has perfectly captured the moment before Legolas and the HP trio called for a dance off.
Yep,

writerconuk
is back with the 2012 event at the end of May. I'm going to be there and clearly you should be as well, dear flist. For there will undoubtedly be much exciting chat and disparaging remarks about the speed with which the hotel bar fails to make cocktails and laments over the old chairs and extravaganztastic talks about fannish things aplenty. With heckling! There will also be a lot of time sitting around with laptops and working out whether casual games that revolve around horses are better or worse than tower defence casual games, and potentially mine and

bogwitch
's jaw-droppingly-accurate-not-at-all-
sarcastic-or-in-any-way-resembling-
Eastenders portrayal of Tara and Willow in
Once More with Feeling
. And did I mention the interesting fannish talks?